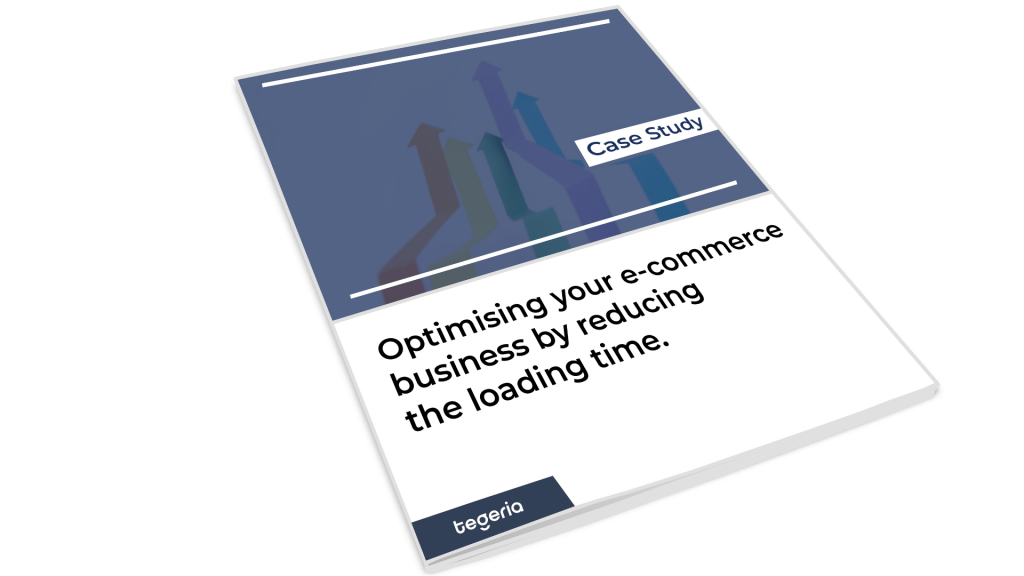 Optimising your e-commerce business by reducing the loading time
A positive experience that a client has whilst browsing your online store will have a massive impact on the revenue the business will generate as a result. Every action has a reaction, for example; slow response time in a site and lack of efficiency will result in significant disadvantages in various aspects of your e-commerce model, especially in a mobile capacity.
ComScore recently released data which says users are spending 2.5 x times on mobile web apps vs the top 1000 native/hybrid apps.
(source: https://developers.google.com/web/showcase/2016/pdfs/aliexpress.pdf ).
Imagine that your customer is browsing your store, on a small-screen device, and with a short attention span. Based on the fact that they're using a phone, the chances are they're multitasking whilst making a decision. Now, factor in the probability that they're getting a vast number of notifications on their device meaning you are essentially competing with an untold number of other apps. To us, this clearly shows the importance of offering clients the best possible mobile experience-especially considering the influence it has in various other aspects of your business.
Sales Growth, Lowering Costs (CAC & infrastructural), Cart Abandonment and so on and so forth.
They're all intertwined when it comes to the aftermath of optimisation in the e-commerce world. The performance of your site needs to excel in a range of areas, assisting your customer in making positive purchasing decisions on your site, especially during purchases and transactions.
Our subject: A PrestaShop store.
Our applied implementation was made in an online store being run on PrestaShop. This software is a free open-source e-commerce platform with various functionalities. The subject in itself was based on business-to-business transactions, with real-time synchronised data, and mass money transfers.
Our solution was an essential improvement for the clients using the platform, especially taking into consideration the exhausting delays they witnessed when purchasing products. Executing the solution brought a considerate amount of benefits to the e-commerce operations, included in the upcoming highlights.
How much time was reduced?
With extensive orders being made, the slow loading time of the site, alongside the delay of adding items to the cart, declined the tolerance of buyers at a massive rate. The larger the orders (business to business), the longer the waiting time extension, especially on mobile devices. This resulted in a situation where the shopping experience became something of a nightmare for any client using the platform.
Numbers and studies speak louder than any compelling observation, so let's talk digits, shall we?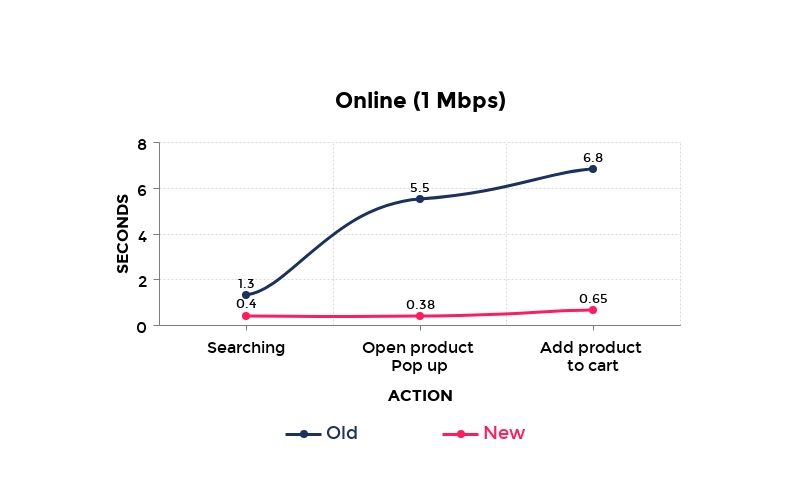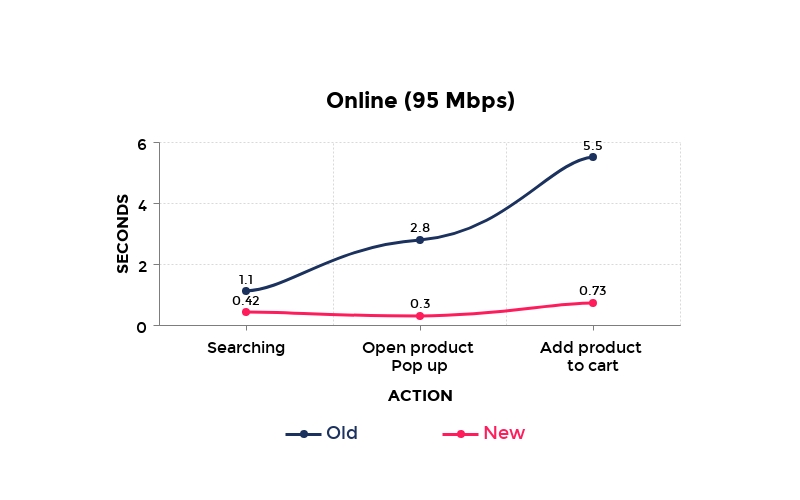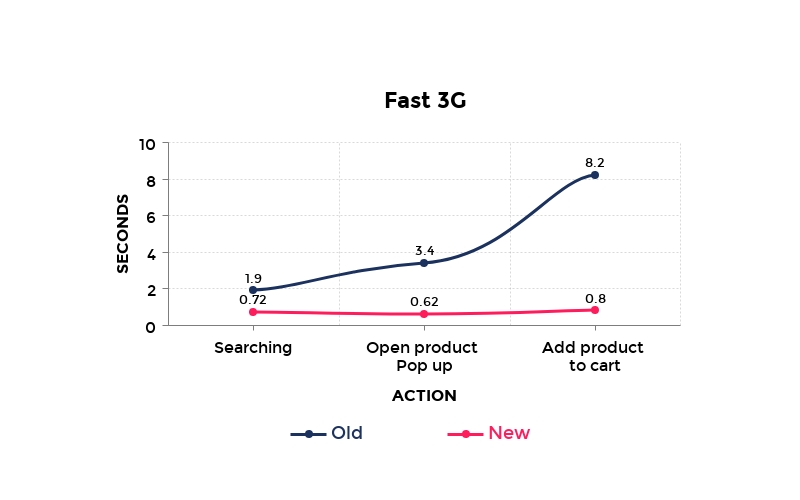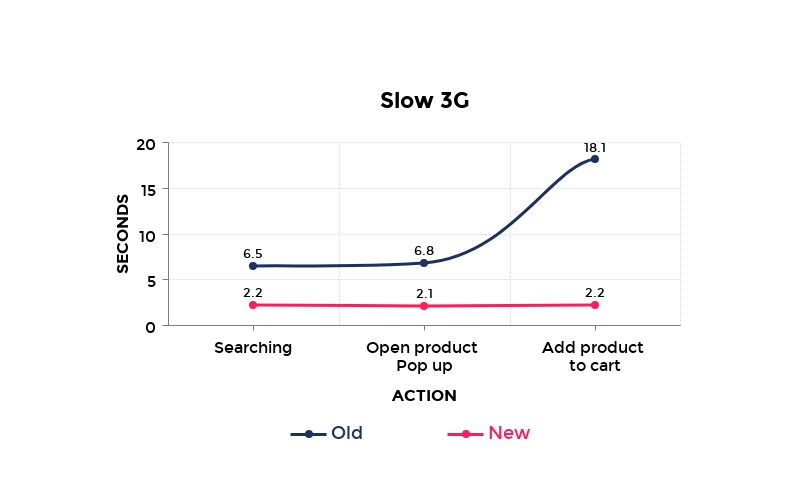 As the graphs above show, there was a vast improvement in time reduction in the included actions of searching, adding a product to the cart and open product pop up.
Now, what does this mean for your enterprise? How does this decline, impact your revenue?
53% of users will abandon a site if it takes longer than 3 seconds to load.
(source:
1. https://www.thinkwithgoogle.com/marketing-resources/experience-design/mobile-retail-apps-sites-introduction/
2. https://www.comscore.com/Insights/Presentations-and-Whitepapers/2014/The-US-Mobile-App-Report?cs_edgescape_cc=IN )
This is a scary thought, considering that once you lose the interest of a potential client, the likelihood of them ever returning to your site is almost zero.
Buyer's remorse emerges when things get more difficult and complex.
That aside, there are obviously other areas undergoing optimisation thanks to the time reduction, so let us witness the specific ones affected by the implementation.
Key Improvements:
More dopamine release for your customers means higher sales.
Sales Growth & Customer Satisfaction
The whole experience of shopping online is vastly driven by emotions; how your customer feels in any given moment may determine if you're ending up with an abandoned cart or a new devoted consumer. In order to achieve the latter, obviously, your site needs to radiate a trusting and positive energy.
According to research carried out by Baymard Institute: Errors in website operation is one of the most common causes of shopping cart abandonment.
Quicker and faster actions when it comes to browsing or adding a product, can impact the buyer's experience, therefore pushing them to purchase more items.
The dopamine receptors should be flaring up in their brains, encouraging them to make further purchases. But that can't happen in a slow and frustrating e-commerce site, can it?
Lower your costs through time and efficiency improvement.
How does a decreased time correlate with your costs? There are so many variables that go into trafficking movement in your online business, like advertising campaigns and marketing strategies.
So, you drew a potential client inside your site, now what?
All those investments may go to waste if the buyer decides to leave due to a sluggish site or application. First things first, lowering the metric of your CAC (Customer Acquisition Cost) is crucial in any B2B business.
A 1-second improvement for a retailer correlates to a 27% increase in conversion rate.
( source: https://developer.akamai.com/blog/2015/09/01/mobile-web-performance-monitoring-conversion-rate)
Taking our time reduction into consideration, through this implementation, our conversion rate increases by more than 100%.
Let us demonstrate that through an example:
Example: Open product pop up on a slow 3g.
Before: 6.8 sec vs Now: 2.1 sec. The conversion rate: 126.9% (according to the conversion rate case study).
An important aspect is also the lower infrastructure cost as well. Integrated systems guarantee lower maintenance expenses and easier service.
Manifesting a Stronger Brand Image.
A dignified site represents a solid business, in control of its inner workings and overall departments. If your enterprise struggles with actions like purchasing and adding items in a justifiable time – how can it uphold higher responsibilities in the eyes of the consumer?
Quick and responsive behaviour, that's what your ground performance needs.
Shopping online is a risky activity for clientele, so don't give them any further reasons to be suspicious towards your business.
The association between an implemented solution and the forthcoming impact in your e-commerce isn't always visible, yet it affects various aspects of it tremendously. That is why we at Tegeria value delivering efficient solutions to all of your unique business requirements.
To get the full technical view of the implementation you can fill the below web form and we would be more than happy to share the details with you.
Did you enjoy this insightful look into our exclusive, professional experience? It is an addition to our newest series: "Case Studies" by Tegeria. Prepare to dive head-first in a fresh perspective on technology and business. Subscribe to our blog to get the notifications on the latest posts.